The Silver Falls Scenic Byway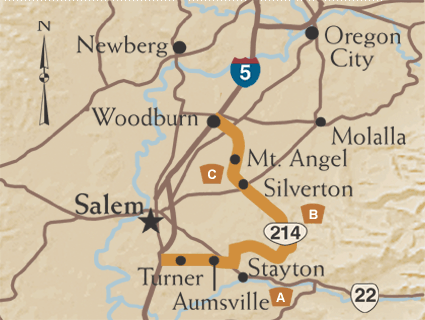 A stone's throw from Salem, this 55-mile route rolls through peaceful countryside and quaint rural towns to Oregon's most popular State Park. If the skies are clear, you'll be treated to views of five glorious Cascade peaks: Hood, Adams, Jefferson, St. Helens, and Rainier
A. On To Sublimity
This leisurely paced route offers a pleasing detour for I-5 travelers into the quieter environs of the Willamette Valley. To begin, exit I-5 at Delaney Road (Exit 248) just south of Salem. Head east to the town of Turner and follow signs for the Tour Route. After crossing Oregon Route 22, you'll be in Sublimity, a town that's as peaceful as its name. From Sublimity, turn left onto Cascade Highway and right onto Oregon Route 214, which ascends past vineyards and Christmas tree farms to Silver Falls State Park.
B. Sparkling Silver Falls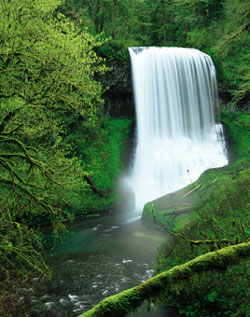 Silver Falls State Park is the largest park in the Oregon State Park System. Its 8,700 acres feature a campground; a conference center; and hiking, mountain biking and horse trails. The park best known for its waterfalls attracts over three-quarter million visitors each year. The Trail of Ten Falls (Canyon Trail) winds past ten waterfalls in Silver Creek Canyon and joins the Canyon Rim Trail to complete a seven mile loop. Originally constructed by the Civilian Conservation Corps (CCC), the trail runs behind several of the taller falls and along the brinks of others, providing an exhilarating excursion for hikers of all ages and abilities. If you don't have time for a long hike, take the one-quarter mile trail to Upper North Falls. The historic South Falls Lodge, constructed by the CCC in 1941, is also worth a visit.
C. Silverton and Mt. Angel
From the Park, Oregon Route 214 continues to Silverton, a town that displays its old-fashioned charm with murals depicting Norman Rockwell paintings. Gardeners will want to visit the Oregon Garden, a world-class public display and botanical garden. Silverton's vibrant downtown offers good restaurants, shopping and galleries. Heading north, you'll soon reach Mt. Angel, a town whose Bavarian heritage is evident in its Benedictine Abbey and its authentic Oktoberfest in September. The route reaches its northern terminus in Woodburn, a culturally diverse agricultural town that shoppers know for its abundance of fine factory store outlets and food lovers know for its authentic Mexican restaurants. You'll also see the home of founding father, Jesse Settlemeier. You can access I-5 here to return to Salem or push north to Portland.