The Myrtle Creek—Canyonville Tour Route
Enjoy picturesque farms, verdant forests and scenic streams as you roll through the southern Cascade foothills on this easy-to-access 68-mile Tour Route east of I-5.
A. East along the South Umpqua
To begin, take Exit 98 off I-5 and find the Canyonville Kiosk in front of City Hall on Main Street. From here, take County Road 1 along the South Umpqua River, an important source of water for the region's rich farmland. Watch for historic homes and buildings, bountiful produce farms, and the Milo Covered Bridge. Unlike most covered bridges, Milo is actually constructed of steel, with a wooden housing. In the community of Tiller, the Route continues to follow the South Umpqua on County Route 46, South Umpqua Road.
B. Footloose in the Foothills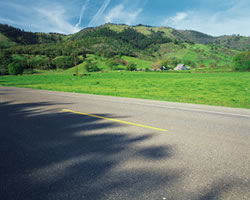 About six miles east of Tiller, turn left on Forest Road 2810, which leads you through stands of old growth Douglas fir, Oregon's state tree. The dense forest occasionally parts to offer views of the 33,200-acre Rogue-Umpqua Divide Wilderness to the east. After 14 miles, the Route jogs left onto Forest Road 2792 for 500 feet before heading west on BLM Road 28-3-35 to Red Top Pond, a popular reservoir for fishing and picnicking. NOTE: This steep and narrow one-lane road can be hazardous for motor homes and trailers, and is often closed in winter.
C. From Forest to Farmland
From Red Top Pond, the Route widens and follows South Myrtle Creek along County Route 18, South Myrtle Road, through hills dotted with cattle, sheep and wild turkeys. The roadsides are painted with wildflowers in spring and the bright leaves of hardwood trees in the fall. After about 17 miles, you'll end up on Riverside Drive in Myrtle Creek. The Route ends at Mill Site Park on Main Street. Before leaving, check out the Horse Creek Covered Bridge. The bridge began its history in Lane County in 1930 and was moved to its present location in 1986.