The Grande Tour Route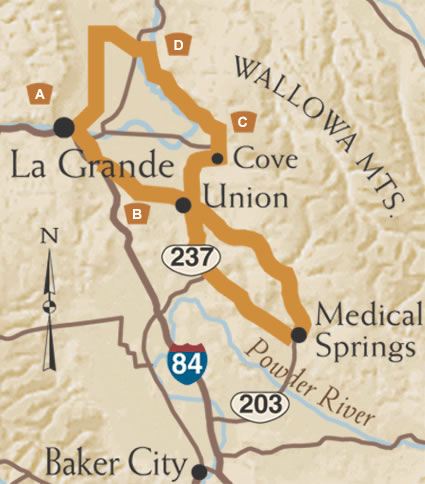 Grande is French for "big," which describes the mountains, farms, and history that define the valley this Route traverses. This loop sits between the Hells Canyon and Elkhorn Byways, and is an easy and pleasurable detour.
A. Launch from La Grande
From the Visitors Center in downtown La Grande, follow the Grande Tour Route signs to Birnie Park, which served as a resting spot for Oregon Trail travelers before they crossed the Blue Mountains. The Route heads south along the base of the Blues to a viewpoint overlooking the Ladd Marsh Wildlife Refuge, with the snow-capped Wallowas in the background.
B. More Perfect Union
After the freeway overpass, a short gravel section of road goes by the ruins of Hot Lake Resort, a spa/hospital that was considered the "Mayo Clinic of the West" in the early 1900s. Turn right on Oregon Route 203 to Union. Visit the Union County Museum on Main Street, then continue south on Oregon Route 237. Turn left onto Thief Valley Reservoir Road for fifteen miles of gravel surface and wide open vistas before looping back to Union via Oregon Route 203.
C. Catherine Creek and Cove
Oregon Route 203 climbs through pine and fir forests to the Catherine Creek Summit, then follows the tumbling creek past the state park and down to Union. Take Oregon 237 north from Union to the little town of Cove nestled at the base of Mt. Fanny. Cove is noted for Ascension Chapel, an Episcopal Church built in 1869. There is also an old-fashioned hot springs swimming pool with picnic grounds in town, a refreshing break for summer travelers.
D. On the Grande Ronde
From Cove, the twisty Grande Ronde River escorts you along back roads past cherry orchards and mint fields at the base of the Wallowa Mountains. Cross the lush Grand Ronde Valley and Oregon Route 82, then turn left for a straight shot south on Mt. Glen Road back to La Grande.