The East Steens Tour Route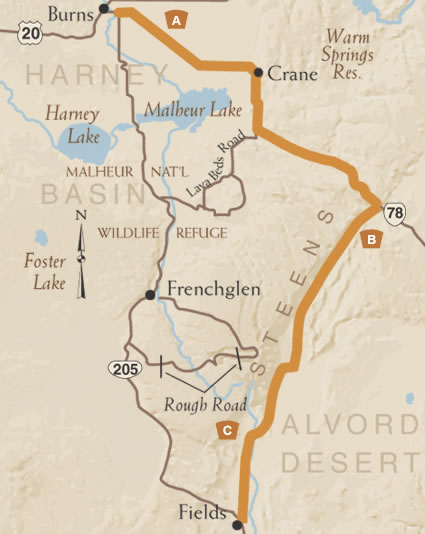 This 143-mile tour skirts along the eastern escarpment of Steens Mountain and the vast expanses of the Alvord Desert, providing a scenic study in dramatic contrasts.
A. Setting the Stage
Like many great plays, the drama of the East Steens Tour Route builds slowly toward a stunning conclusion. Heading south out of Burns on Highway 78, you'll pass the first of several hot springs just north of the town of Crane; Crane offers limited services. A detour onto Lava Beds Road south of Crane will take you to the Diamond Lake Tour Loop. Keep heading southeast on 78 and your perseverance will be rewarded.
B. In the Shadow of Steens Mountain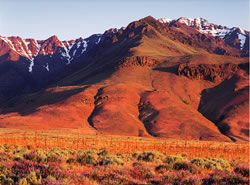 Near milepost 65, the Tour Route detours off Highway 78 onto East Steens Road; it's a gravel surface, but quite passable for regular passenger vehicles. The landscape is arid, but not without life-sustaining water. After passing the sagebrush-covered Sheepshead Mountains to the east, you come to a series of small lakes Five Cent, Ten Cent, Fifteen Cent and Juniper Lakes (the lakes can be dry depending on the year) -- that attract a variety of animal life. Majestic Steens Mountain also comes into view. It is the largest fault-block mountain in the northern Great Basin, rising a vertical mile from the Alvord Basin to an elevation of nearly 10,000 feet. Steens Mountain is a topographical wonder, and presides over the remainder of the route. Bighorn sheep can be spotted on the ridges and pronghorn antelope can be seen adjacent to the road with binoculars. You'll next reach Mann Lake, which is renowned by fly fisherman for its hefty cutthroat trout.
C. Desert Hot Springs, A Treat in Fields
While Steens Mountain looms to the west, the shimmering salt flats of the Alvord Desert unfold to the east. The Alvord Desert playa which can be either wet or dry depending on the time of year, is one of the largest playas in Oregon, six miles wide and 11 miles long. It's a popular venue for motorcycle and ATV riding, land sailing, glider flying and camping. Sore travelers will find sweet solace at Alvord Hot Springs; a privately owned, no-fee hot spring that bubbles up at 174 degrees, but cools considerably by the time it reaches man-made sitting pools. The Tour Route ends in the small community of Fields; rumor has it that the cafe in Fields serves some of the best hamburgers and milkshakes in southeastern Oregon.