The Cow Creek Tour Route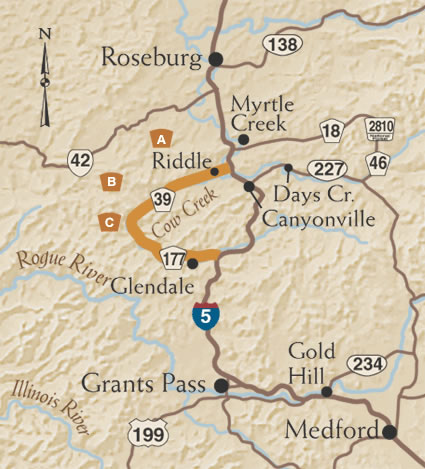 A. Begin near Riddle
Your tour begins at Exit 103, 21 miles south of Roseburg. Follow Cow Creek Road as it passes through Riddle, an old railroad town named after an 1851 pioneer. Riddle is the site of the last nickel mine and smelter that operated in the lower 48; mine sites and tailings are still evident. Gas up here, as there are no services until the end of the route.
B. Go for the Gold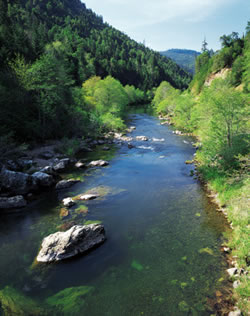 As you head west, picturesque farms and ranches give way to deep forests in the Cow Creek Canyon. Shortly after passing Tunnel No.1 of the historic Oregon and California Railroad, you'll find a rest stop where you can pan for gold just as miners did here nearly 150 years ago. Because gold is heavier than most sediments and gravel in a stream, it and other heavy minerals called "black sands" (including pyrite, magnetitie, ilmenite, chromite, and garnet) can be collected in a gold pan when the right panning techniques are used. Purchase a gold pan, take your pan to a place along the stream where the current slows down enough for the gold to settle out, and try your luck! Good spots are the insides of curves of streams, areas where streams have overflowed, and on the downstream sides of boulders or other obstructions in the water.
Even if you don't strike it rich, spring waterfalls and wildflowers, mixed with old-growth Douglas-fir provide a backdrop you'll treasure. In the fall, hardwood leaves turn to bright reds and yellows. Watch for spawning salmon in the creek's gravel bed.
C. Back to I-5
As you pass the West Fork of Cow Creek, you'll come upon two distinctive steel girder bridges. They date back to 1905 and are still in use today, testament to their fine construction. As the road rises beyond Skull Creek Campground, forests are replaced by pastures and orchards. The route returns to I-5 at Exit 80, 18 miles north of Grants Pass.