The Cascade Lakes Scenic Byway
Round a bend to find Mount Bachelor looming larger than life—and find its image perfectly reflected in a mile-high lake around another bend—and you'll understand why Scenic America named the Cascade Lakes Scenic Byway one of the nation's most important byways. The Byway passes through the heart of central Oregon, with the towering Cascade Mountains providing a constant backdrop for a recreational paradise that offers first class fishing, boating, hiking, rock climbing opportunities and wonderful alpine and Nordic skiing in the winter. The mountains provide practical as well as scenic pleasures; they block moist air from the Pacific, giving this region as many as 250 sunny days a year!
You'll pass along the shores of the renowned Deschutes River and a dozen lakes, as well as many noteworthy geological formations hewn by glacial and volcanic activity. Several old-time lakeside resorts offer respite from the road in the form of an ice cream cone or a comfortable room. Campers will find a bounty of excellent campgrounds.
A. Begin in Bend & Drake Park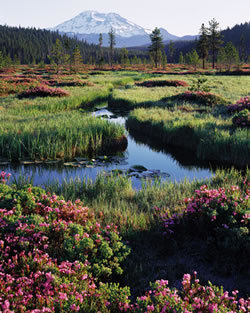 This incredible journey begins in Bend, the hub of Central Oregon's recreational paradise. The Lava Lands Visitor Center on U.S. Route 97 offers maps, information and interpretive exhibits. Before heading into the mountains, wander through downtown and take in Drake Park, where the meandering Deschutes River reflects snowy Cascade peaks. Follow the signs to Mt. Bachelor and the Cascade Lakes.
B. Century Drive
From the outskirts of town, Century Drive (Oregon Route 372) climbs steadily into the Deschutes National Forest. In the days of the horse and buggy, it was a 100-mile dirt road—hence the name! This route was once traveled by early explorers such as Kit Carson, John C. Fremont, and Nathaniel J. Wyeth. Just beyond the forest boundary, Forest Service Road 41 accesses the Deschutes River, which offers fishing, rafting, kayaking, canoeing, and camping opportunities. A few miles further west, a vast lava flow that altered the river's course can be seen from the road.
C. Mt. Bachelor
As you continue west, the horizon is soon dominated by the enormous cone of Mt. Bachelor, home of the Pacific Northwest's top ski resort. Mt. Bachelor boasts dependable, dry powder and a 3,300-foot elevation drop; the ski season typically extends through June. During summer months, the Pine Marten Express lift spirits sightseers to the 9,065-foot peak. The dramatic 360-degree view sweeps a volcanic mountain skyline, Sparks Lake and the Three Sisters Peaks and wilderness area. You can see for hundreds of miles—from Mt. Adams in Washington to Mt. Shasta in California. The landscape around Bachelor—dark lava flows, pale pumice fields, lofty domes and deep chasms—is evidence of the fierce volcanic activity that shaped it.
D. High-Mountain Playground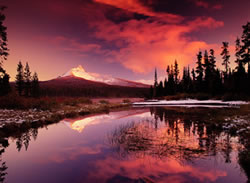 Moviegoers may recognize the view from Dutchman Flat at the base of Mt. Bachelor. The panorama of Broken Top and the Three Sisters was featured in "Homeward Bound" and "Rooster Cogburn", among other films. Soon, you'll reach Todd Lake, the first of a dozen Cascade gems, book ended by Mt. Bachelor and Broken Top. As the Byway drops down to a large meadow, you'll reach Sparks Lake, chosen as the site to commemorate Ray Atkeson, Oregon's photographer laureate. Watch the meadow closely at dawn and dusk, as this is an excellent spot to see elk and deer.
Next, you'll reach the emerald waters of Devils Lake, a popular picnic and camping spot that treats visitors to an eerie optical illusion: crystal clear water and a shallow white pumice bottom make it seem as if boats on the surface are floating in midair. A few miles south, you'll reach Elk Lake, which offers a marina and rustic lodge, and a historic guard station staffed by volunteers providing information and lots of stories. Boats can be rented by the hour. Just off the Byway and adjoining Elk Lake is Hosmer Lake, a fly-fishing-only fishery that's prized for its brook trout and landlocked Atlantic salmon. Primitive campsites are available here.
E. Lakes Galore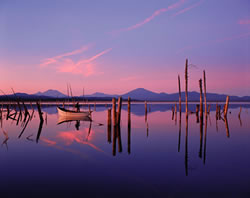 As the Byway descends, you'll reach Lava Lake, home of a quaint resort with a marina, lodging and camping. Rent a skiff, pack a picnic lunch and putter about in the shadow of Mt. Bachelor. Nearby Little Lava Lake is the source of the Deschutes River, which meanders through a lush meadow along the Byway as you move south toward Cultus Lake and Crane Prairie Reservoir. Crane Prairie is home of the famous "cranebows," oversize rainbow trout that grow quickly in this shallow, food-rich impoundment. The record rainbow to date weighed over 19 pounds, with abundant fish in the 4 to 10 pound range. Wildlife enthusiasts will delight in Crane Prairie's osprey observation point, a short walk from a parking area in the Crane Prairie Reserve. Summer months are best for viewing adults feeding young birds.
F. Still More Lakes
South of Crane Prairie, more lakes await you. A short detour east on Forest Service Road 42 takes you past Wickiup Reservoir (another angler's favorite) and Twin Lakes, to U.S. Route 97. The Byway continues south to Davis Lake, a large, shallow impoundment that was formed by a lava flow cutting off Odell Creek. In good water years, Davis offers excellent fly fishing for rainbow trout, with South Sister providing a stunning backdrop. Abundant waterfowl are also present, along with many campsites. The Byway ends at Oregon Route 58 near Crescent and Odell lakes, two popular recreation sites with complete resort facilities.
Nearby Attractions
High Desert Museum: This museum on U.S. Highway 97 in Bend has excellent displays on the natural and cultural history of the area.
Lava Lands Visitor Center: Further south on U.S. Highway 97, you can tour Lava Butte, an extinct volcanic cone, and take in interpretive exhibits.
Newberry Volcanic Monument: Another 20 miles southeast you'll reach the Newberry Volcanic Monument, which is noteworthy for many volcanic wonders, including a vast obsidian flow.
Space Rocks
In the mid-1960s, astronauts trained along the Cascade Lakes Highway in preparation for the Apollo missions to the moon. In 1971, Astronaut Jim Irwin of the Apollo 15 mission placed an earth rock from a volcanic dome near Devils Lake on the lunar surface. It's the only earth rock on the moon.
Volcanic Diversity
The Cascade Lakes Scenic Byway passes through a volcanic and glacial landscape of incredible diversity and tremendous significance. Visitors encounter such diverse landforms as stratovolcanoes, shield volcanoes, cinder cones, sheets of pumice and ash, sheets of ash-flow tuffs, maars, caves, and several kinds of lava flows and domes. Geology textbooks often feature volcanic examples from this area.
While volcanoes build up the land, glaciers tear it down. During the last Ice Age, glaciers flowed far down both sides of the Cascades and cut deeply into volcanic cones, gorging out glacial valleys. An exceptional, nationally significant exposure of the inside of a stratovolcano can be seen at Broken Top.
During the Ice Age, eruptions took place under glaciers and often melted holes in the ice. This activity resulted in the formation of the region's more than 100 small and large lakes behind lava dams, in volcanic craters, behind moraine dams and in ice-eroded basins.
The Deschutes
The Deschutes River begins as a small creek trickling south out of Little Lava Lake and ends some 250 miles north as one of the most celebrated, majestic rivers of the West. In many ways, it's the lifeblood of central Oregon. In its early stages, the Deschutes nurtures several Cascade Lakes, including Crane Prairie Reservoir and Wickiup Reservoir, before turning north toward its long trek to the Columbia. Here it flows through alpine meadows, its nutrient-rich waters sustaining rainbow, brook and brown trout. Geologic studies show that the Deschutes was once located many miles to the east. As Newberry Volcano grew, lava flows pushed the river gradually to the west and to its present location.